Greater St. Lucia Wetland Park
South African World Heritage Site
Incorporated within the Greater St Lucia Wetland Park, this magnificent expanse of lake, islands and estuary covers some 38 682 ha. This is one of Africa's oldest proclaimed wildlife game reserves and a noted wetland of International importance. Acclaimed a World Heritage Site during December 1999.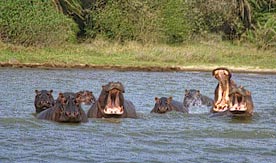 Tours to the Lake will be structured around your specific interests. The Lake is accessible by boat, for a section of the lower portion of the estuary, as well as onto the main body of the Lake at Charters Creek, Fanie's Island and from False Bay Park. Accommodation varies from the Nature Conservation Services camps to luxury private Lodges in the vicinity.
Visits to the Lake are generally incorporated into our tours to the wildlife destinations in the area. A visit to the Eastern Shores of the Lake, Cape Vidal, with its Indian Ocean reefs, to Sodwana Bay, and the Coastal Forest Reserve through to Lake Sibaya and the Kosi Lake System are undertaken in our 4X4 safari vehicles.
The Lake is very different to the Lakes of Europe, the Americas and Canada, and other parts of the World, in that it is very shallow, with a mean depth of barely 1,5 m and with a large surface area, being just over 60 kms long and 21kms at its widest point. It is a magnificent wilderness destination, with a host of wildlife. The seasonal birdlife is an ornithologists delight. There are resident hippo and crocodile, with the Eastern Shores and the False Bay Park rich in antelope. Species such as the rare Somango Monkey and Red Squirrel as well as a high concentration of Serval occur in the area. Over the coastal dunes is an entirely different an varied ecosystem. The protected coastal reserve with its magnificent variety of marine life.