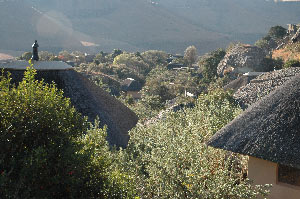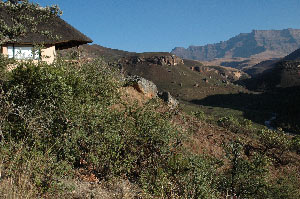 Giant's Castle Game Reserve in the central region of the uKhahlamba Drakensberg Park takes its name from the silhouette of the peaks and escarpment that resemble the profile of a sleeping giant.
Wild flowers of the Drakensberg, is the design theme of Giant's Castle Camp and Rock Lodge and original botanical paintings feature in all the accommodation chalets and lodge buildings.

Accommodation - The camp has 37 two-bed-chalets with en-suite facilities, a lounge/dining area with DSTV (Satalite TV) and fully appointed kitchens; four four-bed chalets with two bedrooms, a bathroom, a lounge/dining area and a fully equipped kitchen; and four six-bed chalets featuring three bedrooms, two bathrooms, a lounge/dining area and a fully appointed kitchen.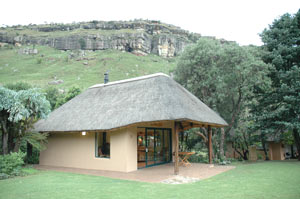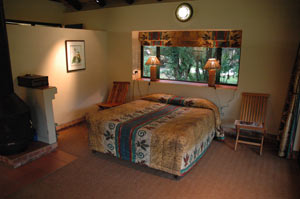 Unit number 8, known as "Bride's Bush" has a double bed, a very private setting with a lovely view of the mountains which makes it an ideal honeymoon suite.
Rock Lodge boasts a magnificent honeymoon suite built into the side of a massive rock and all three twin-bed bedrooms feature luxurious en-suite facilities. The lodge provides satellite television and a resident cook that prepares excellent meals with food supplied by guests.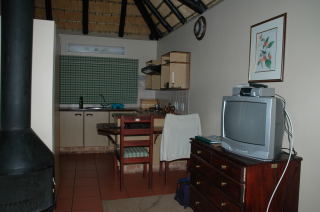 Izimbali restaurant and bar provides guests with the option of fully catered meals in its warm and relaxed atmosphere.
A vulture hide allows unique birding in winter and the Main Caves Museum gives an insight into the past life of the San People with a rich legacy of San Rock Art.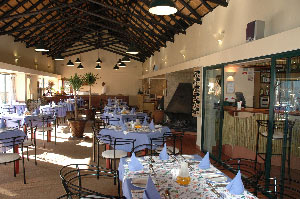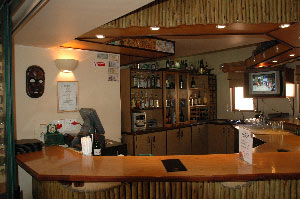 What to do at Giants Castle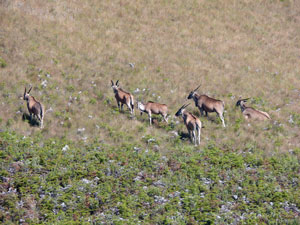 PREHISTORIC ROCK ART:
There is a large sandstone cave containing prehistoric San rock art. This is one of the biggest and best preserved painted sites in southern Africa. This cave is an easy 30 minute walk from the camp office and regular guided tours are taken through this unique exhibition from 09h00 to 15h00 daily for a small fee.
DAY WALKS:
There is a variety of self guided day walks through the lower parts of the park throughout the year, weather permitting. Routes are available from the camp office.
BIRD WATCHING:
Over 170 known species of birds, including many raptors such as Bearded Vulture and Black Eagle
THE LAMMERGEYER HIDE:
Offers excellent viewing of raptors from May to September - limited availability so book in advance.
HIKING AND CAMPING:
Throughout the year. Overnight hiking is suitable for experienced hikers. Tents are only permitted above the contour line, out of sight of the main hutted camp.
TROUT FISHING:
In the streams along the Bushman's River; in season only [closed season 1 June to 31 August].
SWIMMING:
Limited to parts of the Bushman's River below the drinking water in-take for Giants Camp. [Summer months only!]

GAME VIEWING:
Mainly Eland and other species of antelope, baboons, also some smaller mammals such as rock hyrax(dassie)and serval. Best sightings are in the winter months, but generally good throughout the year.
ICE CLIMBING:
Limited Ice climbing during the winter months only
MOUNTAIN BIKING:
Mountain bikes are only allowed on the 75 kilometre Mountain Bike Challenge route.
This is held annually on the last Sunday in April.
RELAXING:
Excellent opportunities throughout the year, irrespective of weather, particularly in the comfortable rest camp.
RECOMMENDED READING:
Barrier of Spears, Mountain Splendour, and Dragons Wrath, all by Reg Pearce; Field Guide to the Natal Drakensberg, by Dave and Pat Irwin; 120 Drakensberg Walks, by David Bristow; Cradle of Rivers, by David Dodds and "Giant`s Castle A Personal Experience" by Bill Barnes.
Vulture Restaurant & Hide