5 Day Hluhluwe uMfolozi Park - St. Lucia Safari
Durban - Durban
Day 1 – Hluhluwe iMfolozi Park
(Dinner)
We will collect you after your breakfast from your overnight accommodation in Durban or from the King Shaka International Airport and travel along the scenic Dolphin Coast and into rural Zululand, directly to the "big 5" Hluhluwe/Umfolozi Park where we would spend two nights at Hilltop Camp. The accommodation here is in a brick under thatch chalet, each bedroom with its own private bathroom/wash-basin and toilet. Each chalet is also equipped with a fridge.
Our game viewing commences immediately upon entering the gates into the park.
This first evening we go on a night drive in an open game-viewing vehicle with staff from KZN Wildlife, the organisation that is tasked with running this reserve. This is to improve on your chances of seeing some of the nocturnal species such as leopard, lion, hyena, genet, bush babies and then the other nocturnal animals such as the owls and nightjars. You also get to see some of the diurnal animals, with their eyes lighting up like a little town in the reflection of the spotlights when you chance on a herd of Impala.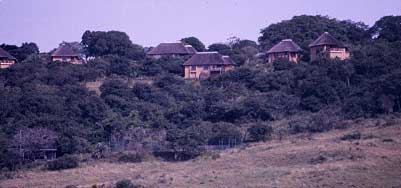 Day 2 – Hluhluwe iMfolozi Park
(Breakfast, Dinner)
Today will be spent on extended game drives to various areas of the Park, with an early start to make the most of the day and to possibly chance upon one of the predators returning to their day-time lair. Set in the heart of Zululand, this is the oldest game reserve in Africa, where Zulu kings such as Dingiswayo and Shaka hunted and put in place the first conservation laws, where today the "big five" of African legend stalk the verdant savannah. Established in 1895, game viewing is the prime attraction.
As the home of Operation Rhino in the 1950s and 60s, the Park became world renowned for its white rhino conservation. The Park covers some 96 000 ha and contains an immense diversity of fauna and flora. Hluhluwe is characterised by hilly topography, and this northern section of the park is noted for its wide variety of both bird and animal life. Sightings of rhino, giraffe, buffalo, wildebeest, zebra, warthog, baboon, vervet monkey, and antelope such as impala, nyala and kudu are seen frequently and with the possibility of seeing lion, leopard, cheetah, elephant, black rhino, hippo, crocodile, monitor lizard, hyena and antelope such as red duiker, steenbuck, waterbuck, bushbuck and then the rare Samango monkey and wild dog, much less frequently. These drives are conducted with your guide in his/her vehicle.
Day 3 – St. Lucia
(Breakfast)
We will exit the Hluhluwe/Umfolozi Park after a full morning's game viewing and lunch and make our way to the village of St. Lucia. After checking into our lodge we will make our way to the estuary mouth, where we spend an hour or two observing the birds and possibly hippos or crocodiles, or to take a stroll on the beach.
The iSimangaliso Wetland Park has both one of the largest estuary systems in Africa and the continent's southernmost coral reefs. In granting it World Heritage status in 1999, the World Heritage Committee noted the park's "exceptional biodiversity, including some 521 bird species". Situated on the central Zululand coast of KwaZulu-Natal, the park is made up of 13 adjoining protected areas with a total size of 234 566 hectares. Its remarkable biodiversity is a result of the park's location between subtropical and tropical Africa, as well as its coastal setting. The iSimangaliso Wetland Park has its origins in the St Lucia Game Reserve, declared in 1895 and made up of the large lake and its islands. St Lucia Park was proclaimed in 1939, containing land around the estuary and a strip of about one kilometre around most of the lake shore.
We will overnight at Lidiko Lodge (or similar). Set above the Great St. Lucia Lake on a coastal dune, the main lodge offers bed and breakfast accommodation in well appointed air-conditioned en-suite garden rooms. All rooms offer a private patio and lead onto the tropical pool area and park like gardens of the lodge.
Day 4 – St. Lucia
(Breakfast)
Today we have a leisurely visit to the eastern shores of Lake St. Lucia. We would spend some time at the beach at Cape Vidal. After lunch we will make our way back to St. Lucia via the circular route. The rest of the afternoon can then be spent at leisure or to visit the Crocodile and Snake Centre. For the more adventurous, there are a number of activities one can partake in. These are for your own account and include, inter alia, the choice of a two-hour boat based whale watching tour to see among others the southern right whale (in season, June to November), a night turtle tour, (in season, Nov. to Feb.), here to try and find the leatherback turtles that visit these shores to lay their eggs, horse riding, both on the beach or in the reserve, kayaking on the lake, mountain biking and others. Should you choose to do any of these optional activities, we would amend the day's activity to accommodate this.
Day 5 – Durban
(Breakfast)
After breakfast we will board a boat for a two hour cruise on the lake in this proclaimed World Heritage Site. Here you are guaranteed to see hippos, and a very good chance of seeing crocodiles and a vast array of bird-life.
After our two-hour cruise and lunch we make our way back to Durban, arriving in time for your departure flight from the King Shaka International Airport or to drop you off at your overnight accommodation.