5 Day Luxury Wildlife Safari, KwaZulu Natal
Durban - Durban
Day 1 – Hluhluwe iMfolozi Park
(Dinner)
We will collect you after your breakfast from your overnight accommodation in Durban or from the King Shaka International Airport and travel along the scenic Dolphin Coast and into rural Zululand, directly to the "big 5" Hluhluwe/Umfolozi Park where we would spend two nights at Hilltop Camp. The accommodation here is in a brick under thatch chalet, each bedroom with its own private bathroom/wash-basin and toilet. Each chalet is also equipped with a fridge.
Our game viewing commences immediately upon entering the gates into the park.
This first evening we go on a night drive in an open game-viewing vehicle with staff from KZN Wildlife, the organisation that is tasked with running this reserve. This is to improve on your chances of seeing some of the nocturnal species such as leopard, lion, hyena, genet, bush babies and then the other nocturnal animals such as the owls and nightjars. You also get to see some of the diurnal animals, with their eyes lighting up like a little town in the reflection of the spotlights when you chance on a herd of Impala.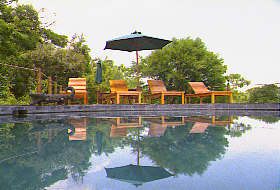 Day 2 – Makakatana Bay Lodge
(Breakfast, Lunch, Dinner)
After breakfast we do a further game drive in the Hluhluwe/Umfolozi Park as we exit the park to arrive at Makakatana Bay Lodge in time for lunch. This luxurious lodge is set on the western shores of Lake St. Lucia and is the only privately owned lodge on the western shores. This afternoon we go on a game drive after tea in a 4x4 open safari vehicle to the heart of the Wetland Park.
The iSimangaliso Wetland Park has both one of the largest estuary systems in Africa and the continent's southernmost coral reefs. In granting it World Heritage status in 1999, the World Heritage Committee noted the park's "exceptional biodiversity, including some 521 bird species". Situated on the central Zululand coast of KwaZulu-Natal, the park is made up of 13 adjoining protected areas with a total size of 234 566 hectares. Its remarkable biodiversity is a result of the park's location between subtropical and tropical Africa, as well as its coastal setting. The iSimangaliso Wetland Park has its origins in the St Lucia Game Reserve, declared in 1895 and made up of the large lake and its islands. St Lucia Park was proclaimed in 1939, containing land around the estuary and a strip of about one kilometre around most of the lake shore.
Day 3, 4 – Phinda Private Game Reserve
(Breakfast, Lunch, Dinner)
There will be another game drive into the Wetland Park before breakfast at Makakatana, and after breakfast we make our way to the Phinda Private Game Reserve where we will check into our lodge in time for lunch. Again we are subject to the lodge's activities, which are geared towards game viewing. Although there are some differences to the day's programme at the various lodges in these reserves, they follow more or less this format: An early wake-up call, which varies according to the season of the year, and then enjoying some light refreshment, such as rusks, biscuits and hot beverages/juice, and then out on the game drive. Usually a stop is made mid-way into this drive to enjoy some more refreshments, and then at the conclusion of the drive it's back to the lodge to enjoy breakfast. After breakfast one may have the opportunity of going on a walk with an armed ranger or the option of lazing by the pool. Lunch is then served, followed by tea in the mid-afternoon before embarking on the afternoon/evening drive. At the advent of sunset a stop is usually made to enjoy sundowners before continuing with the drive, now utilising a spotlight to seek out the nocturnal animals. After this drive it's back to the lodge for dinner, before the programme repeats itself.
Phinda Private Game Reserve is known for its abundant wildlife, diversity of habitats and wide range of activities. Thanks to its coastal rainfall pattern, Phinda enjoys a lush green environment that contains seven distinct ecosystems - a magnificent tapestry of woodland, grassland, wetland and forest, interspersed with mountain ranges, river courses, marshes and pans.
This fascinating variety of landscape and vegetation shelters an abundance of wildlife, including not only the Big Five but many rarer and less easily spotted species, such as the elusive cheetah or the scarce black rhino. With only a handful of lodges sharing an area of 23 000 hectares (56 800 acres) and trained rangers and trackers in search of prime wildlife sightings, guests are assured an exclusive game viewing experience.
Day 5 – Durban
(Breakfast)
After the morning game drive and breakfast we travel back to Durban to drop off at your overnight accommodation or at the King Shaka International Airport in time for your flight.