The Blue Train
The Blue Train's Routes
The Blue Train offers both scheduled and charter services.
Scheduled Routes
Pretoria - Cape Town - Pretoria
The route between Pretoria and Cape Town is a 27-hour journey of 1 600 kilometres (994 miles), through some of the most diverse and spectacular scenery offered by the African sub-continent.
On the southbound trip, the train departs from Pretoria main train sation at 8:50 and arrives in Cape Town train station at 12:00 the following day.
En route to Cape Town there is a stopover and excursion in Kimberley, where we take a step back in time to the days of the diamond rush.On the northbound journey, the train leaves Cape Town at 08:50 and arrives in Pretoria at 12:30, in time for high tea the following day. It stops at Matjiesfontein for an off-the-train excursion.
On arrival at Matjiesfontein guests are invited for a glass of sherry at the bar.
The Victorian buildings and original nineteenth century London lampposts impart to the traveller, the uncanny sense of entering a colonial time warp – an oasis suspended in a different age.
Guests are reminded that they must be at the station an hour before the departure time.
Special Packaged Routes
Pretoria - Durban route - Only select dates available.
The Durban route takes guests from Pretoria to Zimbali Lodge in Durban. The package includes two nights' accommodation on The Blue Train and two nights at Zimbali Lodge. Zimbali Lodge, home to a spectacular 18-hole golf course, is the golfer's ideal retreat. It boasts indigenous trees, natural streams and ponds which create a dramatic and beautiful setting.
Guests who are not interested in golf are treated to leisurely days being pampered with health spa treatments. On the last day, guests are transferred to Durban Station where the train departs for Pretoria.
This special packaged route will be offered again during 2008.
Contact the reservations office for more details.
The Blue Train Bakubung Game Lodge Bonanza - Only select dates available.
This route takes guests from Pretoria to Bakubung Game Lodge for an unforgettable two night stay, with daily game drives accompanied by qualified rangers and trackers.
Charter / Conference - Only select dates available.
The Blue Train can be chartered for journeys anywhere in SA where the rail tracks are compatible with The Blue Train's technology.
Chartered journeys can also be customised to suit the needs of the client. Find out more on the charter page.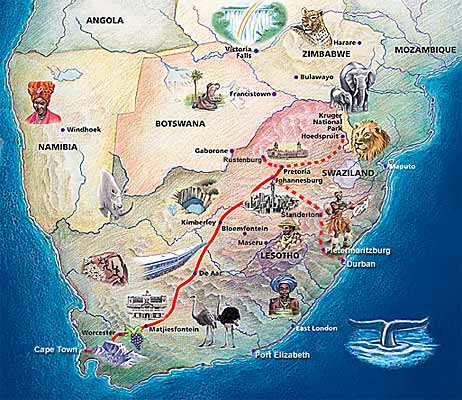 The solid lines on the map above indicate the scheduled routes while the dashed lines indicate the charter routes.